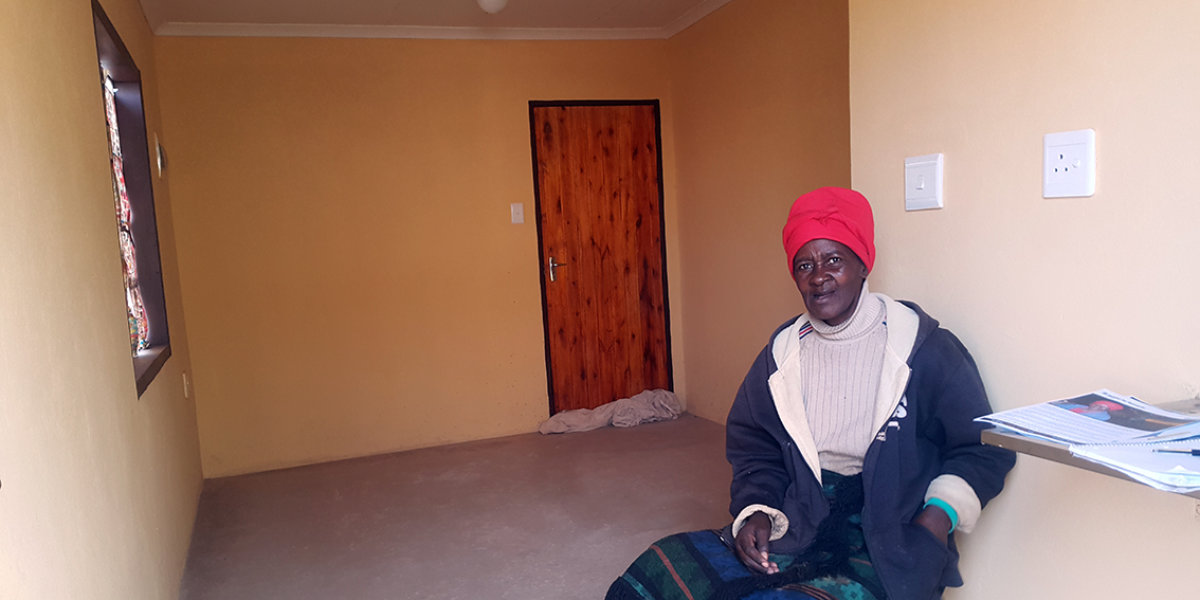 Jeannet Chautsane
The Home that Velocity Vision Built
Working together to build the rights-based society that we all dream to live in.
It takes ordinary people like Nevi and Craig Letcher; people like YOU to restore the dignity and self-worth of families like the Chautsane's for generations to come.
Nevi
and Craig Letcher, owners of
Velocity Vision
activated their family and staff to assist in building Jeannet Chautsane and her family a decent home in their community of Lawley, Johannesburg in March 2018.
Five years ago, the couple participated on a volunteer Build in Orange Farm, Johannesburg, with Habitat for Humanity SA. This experience was transformative for them and "a dream was born" to return with their family and friends to again impact the life of a family for generations to come.
Last month, Ishmael from Habitat for Humanity SA went to visit Jeannet to see how her life has changed since moving into her new home.
Pre-build Story:
Jeannet Chautsane (58) relocated to Lawley in 1998 from Pimville, Soweto. She has a daughter, Dainer (43) and two grandchildren, Zanele (26) and Thandi (19). Zanele is studying Tourism and Thandi is studying via correspondence with UNISA. Insufficient income for transport and travelling fare to travel every day from Lawley to Soweto has forced Zanele and Thandi to remain in Soweto.
The Chautsane family earns an income through a government disability grant of R1 700. This money is mainly used for groceries, electricity, a burial society scheme, education and transport. Jeannet travels to a clinic in Pimville once a month. "Sometimes I sell chips and sweets trying to generate more income," says Jeannet.
"The condition of the house/shack is bad when it is raining it feels like the shack will just be washed away. During winter it is very cold and as the shack is made from tin there is no additional insulation to keep it warm," says Jeannet.
The shack is a one-room shack with no windows. The door does not lock properly and the floor is made from cement. The house has only a bed, a two-plate stove and boxes that act like shelving, to store clothes and groceries. The inside of the house is very dark and the lights have to be kept on during the day.
"I have been long hoping to have a nice house and now I am happy that the time has come and my family is going to have a proper home with a proper toilet inside and [the] children will have their own room," says Jeannet.
The Letcher's focus of "making a change in South Africa," is born from the understanding that they have been blessed as a family with so much, including adequate shelter and the benefits of a roof over their heads. Nevi describes their blessings as "God-given and not intended solely for ourselves". Their desire to 'give back' has inspired various CSI initiatives each year.
Adamant that they will be returning to don their hard hats again, this 'first' build has been dedicated to Nevi and Craig's late parents – The Letcher's & Moses'. Another blessing that they attribute their big hearts to. It is thanks to their parents, said Nevi, that they have been raised with values that involve God and have these imprinted in their hearts.
Post-build Story:
When Ishmael arrives at Jeannet's new home, she is busy in her garden watering her vegetables. Jeannet and Thapiso say that they have already started enjoying the spinach and lettuce that their garden has produced.
Jeannet is very excited to see us and asks how the Velocity Vision team is doing. She requests that we pass on her regards to her friends at Velocity ("the two ladies"). Jeannet also says that they often see Msizi (the crew leader) when they go to church and that Msizi is a kind young man. Jeannet shares that the community is mourning the passing of her neighbour, Mr. Tshabalala, who had been a respected elder in the community. Velocity Vision team members will remember the old man who was there giving his support each day during the build event.
The Chautsane family moved into their new house in the first week of May 2019. The family is doing well. Dainer, Zanele and Thandi now come home to visit more often and Dainer is even planning on moving back home for good. Jeannet expressed her gratitude in her softly-spoken way. She is very happy that they now have a much better place to stay and that it came at just the right time with winter approaching.
"Even though we have nothing much to furnish the house with, we are using things that we have been using before. We have put newspapers on the windows while still organising to buy curtains and rails," Jeannet says. Jeannet and her neighbours say that they miss the 'vibe' and excitement that they experienced during the build event. They are thankful to all who have made it possible for the Chautsane family to have a home.
As we leave, Jeannet and Thapiso offer us a parting gift of a head of spinach from their vegetable garden.
Thank you to the Letcher's & Moses' their extended family and children. We are so deeply appreciative of the time and resources donated to supporting the change that takes place far beyond the build for the families who are blessed.
Related